Reinforced Braided PVC Hose
Our Reinforced Braided PVC Hoses have been designed as a lightweight and flexible reinforced PVC hose option for use with handheld air tools, this Reinforced Hose is an excellent hose solution that will reduce tension and fatigue in the air tool user. It remains tough under pressure and is a highly durable solution.
Details
Lengths & Colour
Use
Specification
Technical Details
Details
What are Reinforced Braided PVC Hoses Suitable for?
The design of this braided hose specifically targets the transportation of liquids, chemicals, and gases, offering versatility, strength, and durability for multi-purpose applications. Therefore, it is an enduringly popular solution for distributing food and drink. They also go through our rigorous quality standard checks.
How are these PVC Braided Hoses Manufactured?
Being one of the top tube manufacturers in the UK, we take pride in manufacturing our flexible hoses in-house at our facility. Indeed, these hoses are meticulously constructed using a minimum toxicity-reinforced PVC material. They feature a three-ply reinforcement design that enhances their strength and durability, making them reliable for various applications. This PVC braided hose has both abrasion and chemical resistance while not compromising flexibility, excellent flow rates or reliability at high working pressures.
This type of tubing complies with certified standards for food and drink use, ensuring users won't impart any unwanted odours or flavours to their products.
What are Reinforced Flexible Hoses Used for or known as?
These braided PVC hoses are known as or are used for:
Having good chemical resistant
Being a reinforced flexible hose
Being highly flexible
Being reliable at high working pressure
Suitable for food and drink distribution
Suitable for a reinforced water hose
Being REACH, RoHS and BSI ISO 9001 compliant
Having reinforced durability
Being made from a minimum toxicity PVC
Can't find what you are looking for?
As a leading hose supplier in the UK, we can offer competitive rates over other regional suppliers. Consequently, if you cannot find what you are looking for, please get in touch with us today to discuss your requirements with one of our friendly sales team.
Lengths and Colours
As one of the UK's leading Hose manufacturers / reinforced PVC suppliers, we can manufacture this hose in a wide range of diameters.
These reinforced / braided PVC plastic hoses are also available in various colours, with a standard coil length of 30 metres.
Should you require alternative lengths, please speak to our sales team, who will happily help you with your requests.
Application Uses
The design of this braided hose aims to convey pressurised liquids, chemicals, and gases. Some potential applications for these high-quality plastic tubing include brewing, food handling, beverage lines, compressed air & gas, hydraulic hose, chemical transfer, and water & fluid lines.
We are a hose supplier in the UK. We can manufacture this range of hoses in a high-specification material specified by the UK brewing industry.
These hoses are ideal for or known as:
Brewing
Food handling
Beverage lines
Compressed air & gas
Hydraulic hose
Chemical transfer
Water hose
Fluid lines
Drain hoses
Industrial hose
Hose pipe
Durable
Our reinforced PVC hose has been designed to withstand even the most demanding conditions. With added strength from its reinforcing layers, you can trust it to remain robust and resistant, year after year.
Optimal Fluid Transfer
Engineered for optimal flow, our hose ensures that water, chemicals, and other liquids move seamlessly without hindrance, ensuring maximum efficiency every time.
Superior Flexibility
While being robust, our reinforced PVC hose does not compromise on flexibility. Maneuver it around corners, across landscapes, or wherever you need without any hassle.
Safe & Non-Toxic
Crafted with high-end materials, the hose remains non-toxic, making it safe for transferring potable water or for use in gardens and other sensitive environments.
UV Resistant
Direct sunlight can weaken many materials, but not these hoses. Our reinforced PVC hose is UV resistant, ensuring longevity and quality even when exposed to the sun.
Weatherproof
Rain, snow, or shine – this hose is designed to perform flawlessly. Its resistance to varying temperatures and weather conditions makes it an asset for any purpose.
Versatile Applications
Whether you're using it for industrial applications, gardening, marine use, or any other purpose, this hose adapts to meet your needs.
Anti-Kink Design
Say goodbye to frustrating knots and bends that block flow. The reinforced design ensures that our hose remains kink-free for smooth operation.
Specification
| Part No. | ID Nominal | ID | OD | Working Pressure | Burst Pressure |
| --- | --- | --- | --- | --- | --- |
| APR 3/8 | 3mm | 1/8″ | 8mm | 325 P.S.I | 1300 P.S.I |
| APR 4/10 | 4mm | 5/32″ | 10mm | 330 P.S.I | 1350 P.S.I |
| APR 5/10 | 5mm | 3/16″ | 10mm | 250 P.S.I | 1320 P.S.I |
| APR 6/12 | 6.3mm | 1/4″ | 11.5mm | 250 P.S.I | 1000 P.S.I |
| APR 8/14 | 8mm | 5/16″ | 13.5mm | 190 P.S.I | 760 P.S.I |
| APR 9/15 | 9.5mm | 3/8″ | 15.5mm | 180 P.S.I | 720 P.S.I |
| APR 12/19 | 12.5mm | 1/2″ | 18.5mm | 150 P.S.I | 600 P.S.I |
| APR 16/23 | 16mm | 5/8″ | 23mm | 120 P.S.I | 480 P.S.I |
| APR 19/26 | 19mm | 3/4″ | 26mm | 100 P.S.I | 400 P.S.I |
| APR 22/30 | 22mm | 7/8″ | 30mm | 90 P.S.I | 360 P.S.I |
| APR 25/33 | 25mm | 1/2″ | 33mm | 80 P.S.I | 320 P.S.I |
| APR 32/42 | 32mm | 1 1/4″ | 42mm | 75 P.S.I | 300 P.S.I |
| APR 38/48 | 38mm | 1 1/2″ | 48mm | 50 P.S.I | 200 P.S.I |
| APR 50/63 | 50mm | 2″ | 63mm | 40 P.S.I | 160 P.S.I |
ID = Inside diameter
OD = Outer diameter
Technical Details
We specifically designed this reinforced three-ply PVC hose to withstand high working pressures. Our products undergo a continuous pressure testing program to ensure consistent quality and high standards.
Working pressures are based on the short-term burst pressure at 20°C using a 4:1 safety factor. Any increases in temperature above 20°C will affect the short-term burst pressure quoted.
The flexible nature of this product allows for an excellent flow rate, which reduces blockages and prevents sediment buildup, making this a low-maintenance hose solution.
Contact us
Dive into a world where strength meets flexibility. Invest in a hose that lasts.
Lengths & Colour
Use
Specification
Technical Details
Can't find a suitable hose to meet your unique requirements?
We have decades of experience creating custom hose solutions for various industries and applications, such as liquid and drink, so contact us if you require a custom extrusion.
Related Informational Articles about our Reinforced Braided PVC Hose
We manufacture several PVC tubes and hoses at Abbey, including the Air 60 Air Hose, reinforced PVC flexible hose and PVC tube for brewery applications, and reinforced PVC nitrile Diesel Hose. Just these three items demonstrate the versatility of PVC. PVC is one of the most versatile plastic materials in the world. Read on to find out more...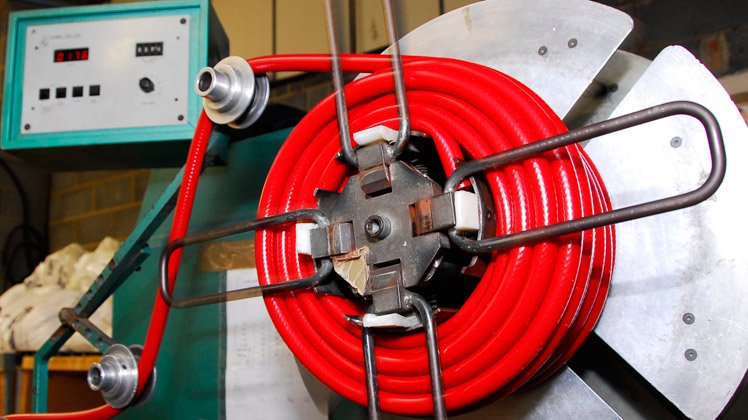 Do you have any specific specifications that need to be met? We can create a bespoke hose that meets all your requirements and specifications. We work with several businesses regularly to offer the best solution for their needs. Read the examples below to see how we've helped several companies solve various problems.