Designed as a lightweight and flexible PVC hose option for use with handheld air tools, this type of ​Reinforced Hose​ is an excellent hose solution that will reduce tension and fatigue in the air tool user. It remains tough under pressure and is an extremely durable solution.
Details
Lengths & Colour
Use
Specification
Technical Details
Details
What are Reinforced PVC Hoses Suitable for?
This multi-purpose, strong and durable braided hose is specifically designed to transport liquids, chemicals, and gases and is therefore an enduringly popular solution for food and drink distribution. They also go through our rigorous quality standard checks.
How are these PVC Braided Hoses Manufactured?
As one of the leading UK tube manufacturers our flexible hoses are manufactured in our facility in the UK and are constructed from reinforced three-ply minimum toxicity reinforced PVC. This PVC braided hose has both abrasion and chemical-resistance while not compromising on flexibility, excellent flow rates or reliability when at high working pressures.
This type of tubing also complies with certified standards for use with food and drink, allowing users to rest assured that no unwanted odours or flavours will be imparted to your products.
What are Reinforced Flexible Hoses Used for or known as?
These hoses are known as or are used for:
Having good chemical resistant
Being a reinforced flexible hose
Being highly flexible
Being reliable at high working pressure
Suitable for food and drink distribution
Suitable for a reinforced water hose
Being REACH, RoHS and BSI ISO 9001 compliant
Having reinforced durability
Being made from a minimum toxicity PVC
Can't find what you are looking for?
As a leading hose supplier in the UK, we can offer competitive rates over other suppliers in the region. Consequently, if you are unable to find what you are looking for please contact us today to discuss your requirements with one of our friendly sales team.
Lengths & Colour
Use
Specification
Technical Details
Can't find the right hose to meet your unique requirements?
We have decades of experience in creating custom hose solutions for a wide range of industries and applications such as liquid and drink, so contact us if you require a custom extrusion for your application.
Related Informational Articles about our Reinforced Braided PVC Hose
We manufacture a number of PVC tubes and hoses at Abbey, including the Air 60 Air Hose, reinforced PVC flexible hose and PVC tube for brewery applications, and reinforced PVC nitrile Diesel Hose. Just these three items demonstrate the versatility of PVC. In fact, PVC is one of the most versatile plastic materials in the world. Read on to find out more...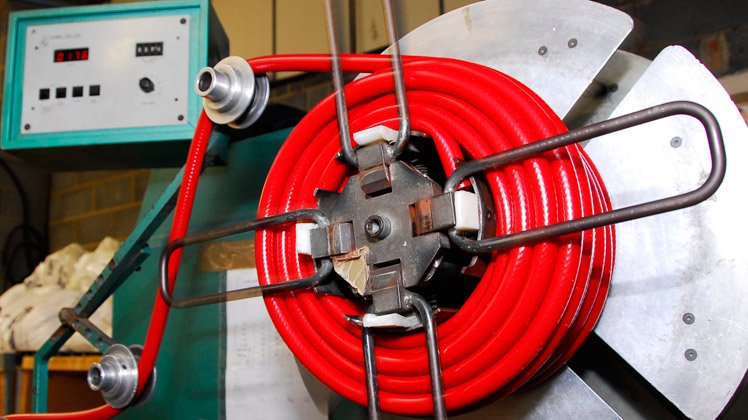 Is there a certain specification that you need to be met? We can create a bespoke hose that meets all of your requirements and specifications. We work with a number of businesses on a regular basis to offer the best solution for their needs. Read the examples below to see how we've helped several...