Manufactured from our flexible nylon tube, our nylon recoil air hose is mainly used in conjunction with air-operated hand tools. The superb spring form memory allows the coil and hand tool excellent freedom of motion from the immediate working area.
Details
Lengths & Colour
Use
Specification
Technical Details
Details
Excellent flexibility and coil shape retention make this lightweight air hose ideal for use with air-operated hand tools. It provides superior airflow and is suitable for use with horizontal or vertical applications.
For extra flexibility, we are also able to offer a range of polyurethane nylon recoil hoses. Due to their exceptional abrasion resistance, these hoses are ideal for use in workshop situations.
We can also offer pre-forming for our range of tube in a variety of polymers, PVC, nylon, polythene and polyurethane to suit a wide range of applications. This can reduce costs by eradicating the needs for tube fittings.
Lightweight.
Flexible.
Springform memory and kink resistant.
REACH, RoHS and BSI ISO 9001 resistant.
Abrasion resistant.
Pre-forming is available.
Lengths & Colour
Use
Specification
Technical Details
Can't find the right hose to meet your unique requirements?
We have decades of experience in creating custom air hose solutions for a wide range of industries, ranging from the pharmaceutical industry to the aeronautics sector. Contact us today if you require a bespoke extrusion.
Related Informational Articles about our Nylon Recoil Air Hose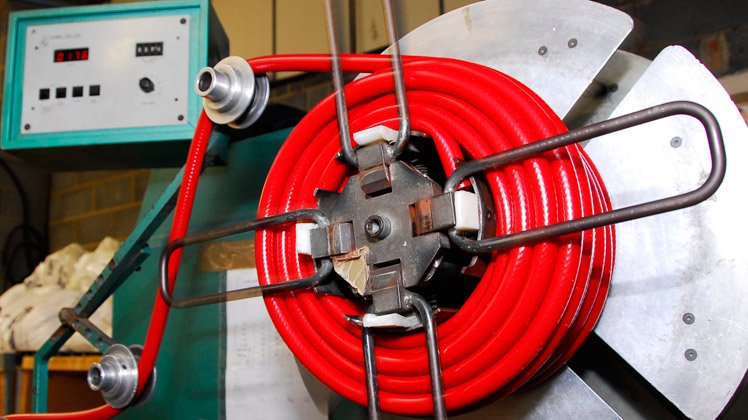 Is there a certain specification that you need to be met? We can create a bespoke hose that meets all of your requirements and specifications. We work with a number of businesses on a regular basis to offer the best solution for their needs. Read the examples below to see how we've helped several companies solve a variety of different problems.