Manufactured from our flexible
nylon tube
, our nylon recoil air hose is mainly used in conjunction with air-operated hand tools. The great spring form memory allows the coil and hand tool excellent freedom of motion from the immediate working area.
Details
Nylon Air Hoses are commonly used in various industrial applications and have gained significant attention due to their distinct features. These include their: durability, flexibility, and ease of use, to name a few.
The Magic of Nylon
Nylon, the first synthetic fibre, was developed in the 1930s. It's a thermoplastic silky material popular in several industries, from clothing to mechanical parts. This versatility owes to Nylon's fundamental characteristics, such as its high strength, elasticity, abrasion, and chemical resistance. Most importantly, Nylon can be melt-processed into different shapes, making it an ideal material for products like our Nylon recoil air hose.
What is a Recoil Air Hose?
A recoil air hose, or self-storing air hose, is a type of tubing designed to retract back to its compact form when unused. This auto-retraction is beneficial, ensuring the hose remains untangled and easy to store, reducing workplace hazards. This feature, coupled with their lightweight nature, makes recoil air hoses an ideal choice in space-conscious, portable, or mobile applications such as DIY projects, automotive repairs, or industrial machinery.
Why Nylon for Recoil Air Hose?
Nylon's inherent properties make it a suitable material for recoil air hoses. These consist of its:
Durability
Nylon is known for its strength and resilience, making it resistant to wear and tear, ensuring the hose's longevity even under rough conditions.
Flexibility
Nylon is remarkably flexible, which means it can be twisted and bent in various directions without breaking. This flexibility is crucial for a recoil air hose, which must regularly expand and retract. The excellent flexibility and coil shape retention make this lightweight air hose ideal for use with air-operated hand tools. It provides superior airflow and is suitable for horizontal or vertical applications. We can also offer a range of polyurethane nylon recoil hoses for extra flexibility. Due to their exceptional abrasion resistance, these hoses are ideal for use in workshop situations.
Lightweight
Nylon hoses are typically lighter than their rubber or PVC counterparts, making them more portable and easier to handle.
Temperature resistance
Nylon can withstand a wide range of temperatures, which makes these hoses suitable for different environments.
Chemical resistance
Nylon is resistant to many chemicals, oils, and solvents, ensuring the integrity of the hose in various working conditions.
Features
This type of tubing also has a few other features, such as:
Springform memory and kink resistant
REACH, RoHS and BSI ISO 9001 resistant
Abrasion resistant
Tube Preforming
We can also offer pre-forming for our range of tubes in various polymers, PVC, Nylon, polythene and polyurethane to suit a wide range of applications. As a result, Pre-forming can reduce costs by eradicating the need for tube fittings.
Applications of Nylon Recoil Air Hose
Nylon recoil air hoses are used in a variety of applications, including:
Pneumatic Tools
The hoses supply compressed air to pneumatic tools in manufacturing, construction, and automotive repair industries.
Robotics and Automation
The lightness and flexibility of nylon recoil hoses make them ideal for robotic applications, where weight and freedom of movement are essential.
Medical Devices
Specific medical devices use nylon recoil air hoses because of their flexibility, durability, and chemical resistance.
DIY Projects
The ease of use and storage make these hoses a favourite among DIY enthusiasts for airbrushing, inflating tyres, or using air-powered tools.
Wide Range of Sizes
Our nylon recoil hose comes in a wide range of sizes. The standard nylon recoil hose is black, with other colours available upon request.
Endings
We supply all standard recoil hoses with plain ends or include 1/4 BSP swivel taper male fittings and spring guards.
Air Tools
We have specifically designed our nylon recoil hose for use with air tools and other air-related equipment, such as drills, sanders, and sprayers.
Technical Information
| Part No. | Coil ID Mandrel | OD | ID | W/L |
| --- | --- | --- | --- | --- |
| ARA 6/2 | 50mm | 6mm | 4mm | 2.5 metres |
| ARA 6/5 | 50mm | 6mm | 4mm | 5 metres |
| ARA 6/10 | 50mm | 6mm | 4mm | 10 metres |
| ARA 6/10 | 50mm | 6mm | 4mm | 15 metres |
| ARA 8/2 | 75mm | 8mm | 6mm | 2.5 metres |
| ARA 8/5 | 75mm | 8mm | 6mm | 5 metres |
| ARA 8/10 | 75mm | 8mm | 6mm | 10 metres |
| ARA 8/15 | 75mm | 8mm | 6mm | 15 metres |
| ARA 10/2 | 75mm | 10mm | 8mm | 2.5 metres |
| ARA 10/5 | 75mm | 10mm | 8mm | 5 metres |
| ARA 10/10 | 75mm | 10mm | 8mm | 10 metres |
| ARA 10/15 | 75mm | 10mm | 8mm | 15 metres |
ID = Inside diameter OD = Outer diameter The working pressures of our hose are determined by calculating the short-term burst pressure at 20°C and applying a 4:1 safety factor. The maximum recommended continuous working temperature is 70°C with occasional limited periods of up to 120°C. Any increases in temperature above 20°C will affect the short-term burst pressure quoted. The minimum operating temperature is -40°C.
Our Nylon Recoil Air Hoses Overall
Nylon recoil air hoses offer an optimal balance between functionality and practicality. Their unique blend of durability, flexibility, and lightweight construction has paved the way for their widespread application in various industries. As technology advances, we can only anticipate more innovative uses for these versatile tools, reinforcing their position as an essential component in the toolkits of professionals and hobbyists alike.
Can't find the right hose to meet your unique requirements?
We have decades of experience in creating custom air hose solutions for a wide range of industries, ranging from the pharmaceutical industry to the aeronautics sector. Contact us today if you require a bespoke extrusion.
Related Informational Articles about our Nylon Recoil Air Hose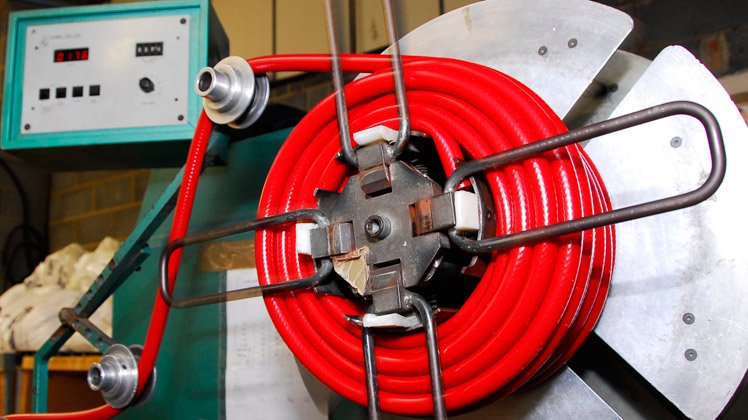 Is there a particular specification that you need to be met? We can create a bespoke hose that meets all your requirements and specifications. We work with several businesses regularly to offer the best solution for their needs. Read the examples below to see how we've helped several companies solve various problems.