Tube Forming or Tube Bending is the process of permanently shaping or bending pipes and tube. We can form a variety of polymers as well as PVC, Nylon, Polythene and Polyurethane.
Details
One of the primary benefits of having materials shaped with tubing forming techniques is that your tube and piping can be shaped to suit applications where traditional tube fittings cannot be used, such as in plumbing systems.
Tube forming also has numerous other benefits, such as improved material strength, a reduction in parts and material weight as well as a reduced need for tube fittings such as elbows and T-Pieces.
We can provide this service to a range of materials regardless of size or quantity.
For a quote please call our technical sales office to discuss your needs and requirements.
Can't find the right tube to meet your unique requirements?
We have decades of experience in creating custom hose solutions for a wide range of industries, ranging from the pharmaceutical industry to the aeronautics sector.
Related Informational Articles about our Tube Forming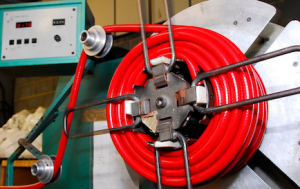 Is there a certain specification that you need to be met? We can create a bespoke hose that meets all of your requirements and specifications. We work with a number of businesses on a regular basis to offer the best solution for their needs. Read the examples below to see how we've helped several...