Polyurethane Tube is widely used in pneumatic control systems thanks to its resilience, tight bend radii, flexibility and suitability in low temperatures; our polyurethane tubing is a high-performance tube option that offers excellent capabilities and abrasion resistance.
Polyurethane Tubing Details
Polyurethane Tubing Details
Introducing our Premium Polyurethane Tubing, the industry standard for reliability and durability. Ideal for a wide range of pneumatic applications, this tubing offers you a superior flexibility, kink-resistance, and a lightweight design to meet all your project needs.
UK Polyurethane Tubing Manufacturer
As a UK polyurethane tubing manufacturer, we can extrude / manufacture and supply large quantities of this type of tubing to your bespoke criteria using our Midlands-based manufacturing facility. We are regular suppliers of PU hose to many clients and have the capabilities and required documentation to allow for a one-off or a steady supply of this type of tubing.
So what makes Polyurethane tubing, or PU pipe, right for your requirements?
Urethane tubing has many properties, making this unreinforced polyurethane tube a versatile solution. For instance, it is resilient to abrasion, chemicals, gases, and most fuels, oils, greases, and other materials. This type of tubing also possesses maximum kink resistance and minimum kink memory, making it an excellent choice for use in confined spaces. It is also silicone-free and REACH, RoHS and ISO compliant and is prevalent for pneumatic uses. This tubing's suitability in low temperatures and tight bend radii often makes it a superior choice to a nylon tube that does not possess the same qualities.
Abrasion resilient
Chemical resistant
REACH, RoHS and BSI ISO 9001 compliant
Silicone free
Suitable in low temperatures
Highly flexible with kink resistance
Some of Polyurethane Tubes' main properties include:
Anti Bacterial Properties
Polyurethane does not support mould, mildew, fungus or other similar growth.
Abrasion, Impact & Shock Resistance
This property is ideal in helping to prevent our tubing from being damaged and causing the inner contents to leak and flow outside of the tubing due to exterior damage.
Material
High-grade polyurethane, known for its elasticity, tear-resistance, and long lifespan, makes it ideal for many application uses.
Forms a Tight Seal
Due to polyurethane having tear and abrasion-resistant properties, it forms a tight seal locking out unwanted air ingress and preventing puncture – meaning the contents inside are safe from external factors.
Temperature Resistant Properties
PU tubing has excellent temperature resistance, and it can stand up to both intense heat and extremely cold environments.
Electrical Insulating Properties
Polyurethane has an excellent electrical insulating property.
Chemical & UV Resistance
This type of tubing is resistant to oil, fuel, and other commonly used chemicals, while it is also ideal for withstanding exposure to sunlight for long durations at the same time.
Flexibility
Our polyurethane tubing performs well for flexible applications with a tight bend radius. This unique tubing feature assists with maximum kink resistance and minimum kink memory, making it an excellent choice for use in confined spaces. This kink resistance helps prevent damage to the tubing, allowing easy movement to the tube installation.
High Load Bearing Capacity
Polyurethane exhibits a high compression load capacity compared to other materials like rubber. Under a heavy load, the material may experience temporary deformation; however, it will regain its original shape once the burden is removed.
Resistance to Gases, Fuels, Oils, and Water
Polyurethane will remain stable in or carrying: Gases, Fuels, Oils, and Water.
Creates Less Noise
Compared to other materials, such as metals or plastics, this tubing provides less noise when moving.
REACH, RoHS and ISO Compliant
Our Polyurethane tubing is REACH, RoHS and ISO compliant, which addresses the production and use of chemical substances and their impacts on health and the environment.
High Cut & Tear Resistance
Polyurethane possesses high tear resistance along with high tensile properties.
Colour Coding Parts
We can pigment this type of tubing, providing a wide selection of colour options. This pigmentation is especially advantageous when you need to colour-code your tubing.
Versatilite
This type of tubing is suitable for various industrial, automotive, and medical applications.
Large Temprature Ranges and Pressures
This tubing operates efficiently from -20°C to 70°C and handles a wide range of pressures and vacuums, making it suitable for both high and low temprature and pressure applications.
Lengths & Colours
Our polyurethane (PU) tube is available in various sizes, ranging from 2.5mm inside diameter to 9mm inside diameter. All sizes are available in natural, red, black, and blue. The polyurethane tube has a standard coil length of 30 metres but is available in alternative sizes. Don't hesitate to get in touch with our sales office for more information if you have any queries.
PU Tubing Uses
This unreinforced polyurethane tube is ideal for a large number of application uses. Some of these consist of the following:
Low-pressure pneumatic application
Hydraulic Control Systems
Automotive applications
Pneumatic control systems
Transfer of Petroleum
Fuel lines
Grease and other forms of lubrication Lines
Liquid lines
Oxygen lines
Gas lines
Agriculture tubing
Insulating sleeving
Machinery tubing
Air feeds
Robotics
Automotive lines
Fluid Transfer
Medical Equipment
Along with many similar application uses
PU Tube Sizes
| Part No. | OD | ID | Working Pressure | Burst Pressure | Min. Bend Radius |
| --- | --- | --- | --- | --- | --- |
| APU 4/25 | 4mm | 2.5mm | 185 P.S.I | 470 P.S.I | 6mm |
| APU 5/3 | 5mm | 3mm | 160 P.S.I | 640 P.S.I | 8mm |
| APU 6/4 | 6mm | 4mm | 150 P.S.I | 600 P.S.I | 11mm |
| APU 8/55 | 8mm | 5.5mm | 135 P.S.I | 540 P.S.I | 19mm |
| APU 8/6 | 8mm | 6mm | 120 P.S.I | 480 P.S.I | 23mm |
| APU 10/75 | 10mm | 7.5mm | 110 P.S.I | 440 P.S.I | 25mm |
| APU 12/9 | 12mm | 9mm | 100 P.S.I | 400 P.S.I | 40mm |
ID = Inside diameter OD = Outer diameter
Technical Deatails
The working pressures of this polyurethane tube are based on the short-term burst pressure at a temperature of 20°C using a 4:1 safety factor. The maximum recommended continuous working temperature is 55°C with occasional short-term use at 85°C. Minimum temperature use is occasional use at -55°C. The standard coil lengths are 30 metres; however, we provide customised solutions to our sales team if you are looking for alternative coil lengths. We will be happy to talk about your options. All tube sizes are also available in various colours and tints. You can find out more about Polyurethane at this
Wikipedia page
Can't find the right tube to meet your unique requirements?
We have decades of experience creating custom tube solutions for various industries, from the pharmaceutical to the aeronautics sector.
Related Informational Articles about our Polyurethane Tubing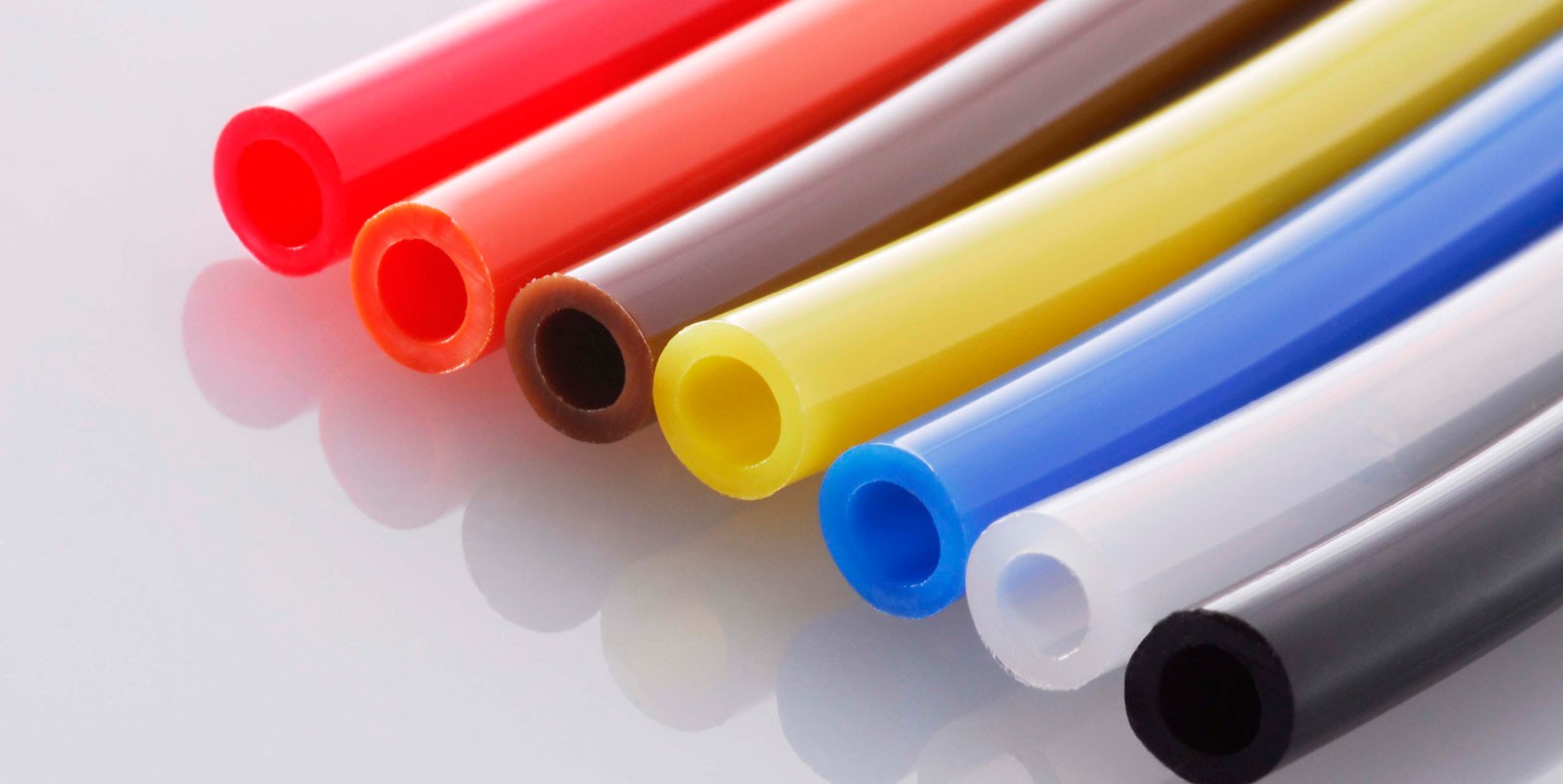 Polyurethane is a very flexible elastomer - a synthetic polymer with elastic properties. The main advantage of Polyurethane is that it has: Anti Bacterial Properties - Polyurethane does...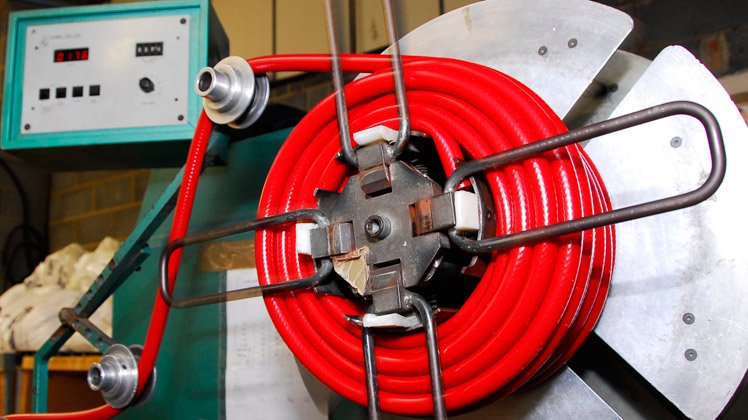 Is there a specific specification that you need to be met? We can create a bespoke hose that meets all your requirements and specifications. We work with several businesses regularly to offer the best solution for their needs. Read the examples below to see how we've helped several...