The Triflex 2000 is a supremely flexible and resilient water hose. It is carefully constructed using three bonded layers that work together to provide flexibility, strength and resistance, creating a water hose that performs well under considerable working pressure.
Details
Use
Specification
Technical Details
Details
This Triflex host is a flexible water hose which is ideal for general water delivery, particularly in situations and industries where flexibility and ease of handling are of importance.
Three bonded layers work together to create this high performance water flex hose. An inner layer of soft and flexible PVC gives the hose its excellent flexibility.
This Tri Flex hose is then strengthened with a layer of polyester spiral yarn. The outer cover is a high quality yellow PVC that ensures a superior bond and provides UV, ozone and abrasion resistance for when the hose is used outdoors and on hard and rough surfaces.
Flexible.
UV protection.
Abrasion resistant.
Strong and durable.
High working pressure.
REACH, RoHS and BSI ISO 9001 compliant.
Use
Specification
Technical Details
Can't find the right hose to meet your unique requirements?
We have decades of experience in creating custom hose solutions for a wide range of industries, ranging from the pharmaceutical industry to the aeronautics sector.
Related Informational Articles about our Tri Flex & Water Hoses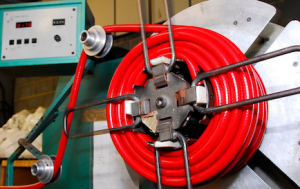 Is there a certain specification that you need to be met? We can create a bespoke hose that meets all of your requirements and specifications. We work with a number of businesses on a regular basis to offer the best solution for their needs. Read the examples below to see how we've helped several companies solve a variety of different problems.