Our highly durable and flexible Keder cord is ideal for reinforcing fabric panels on trailers, tarpaulins, tents and other temporary canvas structures. At the same time, numerous other applications can also use it.
Details
Keder Cord Application Uses
The manufacturing and installation of fabric structures such as tents, awnings, and outdoor advertising displays use Keder cord, also known as Keder rope. A fabric or vinyl sleeve with this cord or rope sewn inside allows for a secure track or channel system attachment.
Used in Large Fabric Structures
Large-scale fabric structures such as event tents, temporary buildings, and exhibition stands commonly use the Keder cord system in their construction. The manufacture of smaller-scale fabric products such as awnings, canopies, and banners also uses the system.
Creates a Tight and Secure Seal
Keder cord is essential for creating a tight and secure seal between the fabric structure and the supporting frame or structure. The frame or structure will have a groove or track into which the cord is designed to slide. Once in place, the fabric is secured to the cord using various methods, such as sewing or heat sealing. This securing creates a waterproof and wind-resistant barrier.
Tough and Resilient
This type of cord has rigid properties that make it an ideal solution for numerous tensile purposes. Many different canvas structures can be used in conjunction where tensile strength is paramount. Trailers, containers, tarpaulins, awnings, canopies, and even boat sails commonly use to close and reinforce the fabric.
What is Keder Cord Also Known As?
Several names refer to the Keder cord, depending on the function and industry in which it is used. It is also known as 'bead', 'beading', 'piping', 'welt', or 'welting'.
Flexible and Secure
One of its primary advantages is its ability to provide a flexible and secure attachment method for fabric structures. Adjusting the cord to accommodate changes in the structure's size or shape is easy, allowing for a perfect fit. This versatility makes it a popular choice for use in various applications.
High Level of Durability
Another key benefit of the Keder cord is its durability. High-strength materials such as polyester or vinyl typically make the cord, which can withstand exposure to harsh weather conditions, UV radiation, and other environmental factors. This resistance makes it an ideal choice for outdoor structures that must withstand the elements over an extended period.
Enhance Aesthetic Appeal
Keder cord can enhance the aesthetic appeal of a fabric structure and provide functional benefits. The cord can match the fabric's colour to create a seamless and professional finish. This finish is crucial for applications such as advertising displays, where the structure's visual impact is an essential consideration.
Lengths and Colors:
Our Keder cord is available in different diameters ranging from 2mm to 25mm, and all sizes are readily available in various colours and lengths.
Keder Cord Overall
Overall, this cord is essential to many fabric structures, providing a flexible, secure, and durable attachment method. Whether used in the construction of large-scale event structures or smaller-scale awnings and banners, Keder cord offers a range of benefits that make it a popular choice for designers, manufacturers, and installers of fabric products.
Can't find the right tube to meet your unique requirements?
​We have decades of experience in creating custom hose solutions for various industries, from the pharmaceutical industry to the aeronautics sector.
Related Informational Articles about our Keder Cord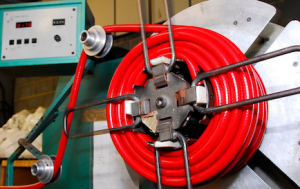 Is there a specific specification that you need to be met? We can create a bespoke hose that meets all your requirements and specifications. We work with several businesses regularly to offer the best solution for their needs. Read the examples below to see how we've helped several companies solve various problems.