Curtainsider Pelmet Sections
Curtainsider lorry pelmet sections are fitted to curtain-sided trailers to help to protect the roller mechanism of the curtain and to provide a weather seal against the curtain fabric. These can also be used on curtain-sided railway trucks.
Details
Curtainsider trailers, also known as tautliners, are an integral part of the freight and logistics industry, providing a versatile solution for many goods requiring transport. While the curtain-sided design of these trailers is a key feature, the PVC lorry pelmet is an often overlooked component that plays a crucial role in maintaining the structural integrity and weatherproofing of these vehicles.
What are Curtainsider pelmets?
In the context of a curtain sider trailer, a pelmet is a protective covering or shield typically placed over the top edge of the curtain to prevent water ingress into the trailer. The PVC pelmet serves as a shield, diverting rain and other elements away from the load. This protective component is essential for securing the cargo and ensuring its safe and dry arrival at its destination. Our pelmet sections help to protect curtain sider trailer and truck roller mechanisms and ensure a watertight seal to the cargo area, ensuring that transported goods stay dry. Besides ensuring zero water ingress into the load area, our thoughtfully designed pelmet section adds a streamlined and polished look to the finished trailer.
How are our Curtainsider Pelmets Manufactured?
Since the early eighties, we have formulated special blends of tried, tested and trusted PVC materials. For over 40 years, we have constantly researched and evolved our PVC materials that are suitable and sustainable for today ever increasingly changing environment. Consequently, our pelmet materials have exceptionally increased resistance to ozone and chemical attack. Thus, consistently maintaining and ensuring that Abbey Extrusions pelmet is popular among many trucks, trailers, lorries, commercial vehicle manufacturers, carriers, shippers and hauliers. We can also offer design and manufacture in the UK to individual specific requirements. Ultimately, we have created curtain sider pelmets for most leading trailer manufacturers as replacement parts or as original equipment. Our standard stock comes in 14-metre lengths in black or white. Colour matching to suit haulier-specific livery and style is also available.
Where are these Pelmets fitted?
These pelmets are typically fitted on the exterior of the curtain, effectively sealing the gap between the top of the curtain and the trailer's roof. This design works as a barrier against water, dust, and debris that might otherwise infiltrate the trailer and damage the goods inside.
UK Commercial Vehicle Trailer Manufacturers, our Pelmets can be used with
We have manufactured and produced our pelmet sections for many leading trailer manufacturing companies during the past 40 years; these include: Collier, Alltruck, Boalloy, Southfield, CVR, Grahams, Baileys, CBF, Drysdale, Robinsons, John Paul, Doughty, Smiths, NTC, Euro Truck, Truck Engineering, Nationwide, Artic Trailers,  Don-Bur, Cargobull, JC Payne, Truck & Trailer, Cartwrights, Lawrence David, Montracon, SDC, Service Metals, Bodywork Solutions, Bodyline, Tiger, Walkers, Moore.
What are the benefits of PVC Pelmets?
While PVC trailer pelmets may seem minor in the grand scheme of the trailer's structure, we cannot overstate their importance. Here's why:
Protection Against Weather Conditions
The primary function of a pelmet is to provide a weatherproof seal for the trailer. It shields the cargo from rain, snow, and other harsh weather conditions, ensuring the goods remain dry and undamaged throughout their journey.
Preventing Cargo Damage
By keeping the elements out, pelmets reduce the risk of damage to the cargo. This reduction of interior damage is significant when transporting sensitive goods such as electronics, paper products, or food items that moisture could adversely affect.
Extending Curtain Life
Pelmets also help to extend the life of the curtain itself. By shielding the top edge of the curtain from direct exposure to the elements, they prevent premature deterioration and reduce maintenance costs in the long run.
High-Quality for Durability and Strength
Our curtain sider trailer pelmets are made from our specially adapted bespoke PVC material, ensuring vital material strength and tenacity, particularly against ripping and ensuring long-term reliability and durability.
Customisable to Meet Your Requirements
We understand that every business and industry does have specific and unique requirements. Therefore, we can offer customisable trailer pelmets tailored to your requirements. Whether you need long lengths supplied in 200ft coils or short distances, we can produce our pelmets to meet your individual needs.
Easy Installation for Improved Efficiency
Our trailer pelmets are easy to install, whatever the length of the trailer, allowing you to improve the efficiency of your trailer without wasting time and effort. The easy installation process means you can return to the road quickly, maximising your productivity.
How easy is it to maintain these Lorry pelmets?
Just like any other component of a vehicle, PVC trailer pelmets require regular maintenance to ensure they remain in top condition and function effectively. Here are some tips:
Regular Inspections
Regularly check the pelmet for signs of wear and tear, such as cracks, tears, or areas where it may pull away from the curtain. Early detection of such issues can prevent more significant problems down the line.
Cleaning
Clean the pelmet regularly to remove dirt, grit, and other debris that can cause deterioration over time.
Replacement
Although pelmets are designed to be robust, they are not meant to last indefinitely. If a pelmet shows significant wear or damage, you must replace it promptly to maintain the protective seal.
Unbeatable Quality Value and Service
We are committed to providing our customers with the best value and service. We can offer our unique daily 24-hour turnaround service, generally used for fast pelmet replacement repairs.
Curtain Sided Lorry Pelmet Dimensions & Sizes
We carry a wide range of curtain sider pelmet material from stock which generally suits most requirements. However, we can also cater for custom orders. We can also accommodate colour matching to specific livery and corporate branding.
Contact us today
Contact us today to learn more about our pelmets sections and how they can benefit your business, and improve your fleet of curtain-sided trailers.
Updated Lorry Pelmet Swatches Now Available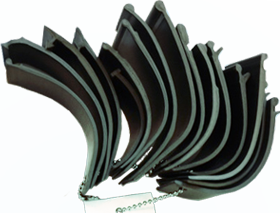 Trying to match a new lorry pelmet to your old pelmet section?
The dies below will fit most truck trailers on the road today. Can't find what your looking for? Send us a sample and we'll match it for you.
---
| | | | |
| --- | --- | --- | --- |
| Diagram | PIP Size | Depth | Tolerance |
| | 6.6 - 7.0mm | 135mm | ±5mm |
| | 6.3 - 6.5mm | 135mm | ±5mm |
| | 6.6 - 6.9mm | 120mm | ±5mm |
| | 6.6 - 6.9mm | 135mm | ±5mm |
| | 7.75 - 8.50mm | 124mm | ±5mm |
| | 7.75 - 8.25mm | 135mm | ±5mm |
| | 8.75 - 9.25mm | 165mm | ±5mm |
| | 8.9 - 9.1mm | 165mm | ±5mm |
| | 6.7 - 6.9mm | 135mm | ±5mm |
| | 5.9 - 6.1mm | 115mm | ±5mm |
| | 9.9 - 10.1mm | 90mm | ±5mm |
| | 10.75 - 11.25mm | 135mm | ±5mm |
| | 7.7 - 8.3mm | 140mm | ±5mm |
| | 6.6 - 7.0mm | 165mm | ±5mm |
| | 6.7 - 6.9mm | 140mm | ±5mm |
Related Informational Articles about our Curtainsider Pelmet Sections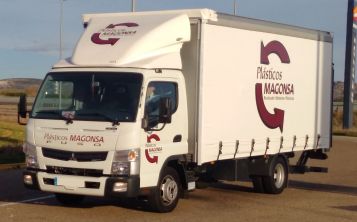 Curtainsiders are trucks with removable side curtains that give full, reliable access to the truck's content without underloading the entire vehicle. Ideally, we suit these vehicles where access to one load section is required without exposure...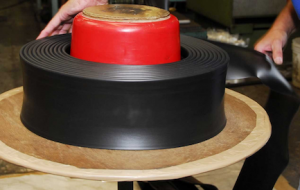 Protect and streamline your trailers and trucks with our specially formulated, tried and trusted PVC pelmet. Over the years, we have established a reputation as a leading manufacturer of curtain sider pelmet sections. Made from specially formulated blends of PVC materials, our...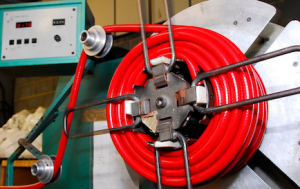 Is there a certain specification that you need to be met? We can create a bespoke hose that meets all your requirements and specifications. We work with many businesses regularly to offer the best solution for their needs. Read the examples below to see how we've helped several companies solve various problems.