Low Density Polythene / Polyethene Tube
This unreinforced low-density Polythene Tube is perfect for low-pressure applications, primarily finding its use in pneumatic machinery and the brewing and food industries. REACH, RoHS and BSI ISO quality standards have fully approved it for conveying consumable products.
Details
Tubing Description
We manufacture our Low-Density Polythene or Polyethene Tube in the UK from high-quality, low-density polythene. This tube solution is infamous for transporting and conveying air and liquid.
What is Low-density Polyethylene (LDPE)
Low-density Polyethylene (LDPE), also known as polyethene, is a type of plastic material widely used across many industries due to its versatility and durability. One common application of LDPE is the manufacturing of tubes or tubing, which have a broad spectrum of uses due to LDPE's many advantageous properties.
The application uses
This unreinforced polythene tube is ideal for low-pressure applications and finds predominant use in applications such as pneumatic machinery, brewing, and the food industry.
Furthermore, industries utilise them in medical and scientific research applications, as well as for industrial use and household goods. LDPE tubes have become a ubiquitous component of our daily lives.
Medical and Pharmaceutical Applications
The medical and pharmaceutical sectors extensively utilise LDPE tubing, making it one of the critical areas of application. This heavy use is primarily due to the material's superior resistance to chemicals and sterilising agents. Manufacturers of medical devices commonly use LDPE tubing to produce disposable medical equipment such as surgical masks and gloves, as well as in intravenous (IV) systems, thanks to its flexibility and biocompatibility. Thanks to its transparency and resistance to various chemicals, it is also used in lab equipment and pharmaceutical processes.
Food and Beverage Industry Applications
The food and beverage industry often uses LDPE tubes for food packaging thanks to their high flexibility, moisture resistance, and ability to withstand various temperatures. They often create squeeze bottles, food storage containers, and plastic wraps. Furthermore, LDPE's resistance to acids, bases, greases, oils, and alcohol makes it suitable for tubing for dispensing beverages and packaging a wide range of food products.
Industrial Applications
In the industrial sector, various applications utilise LDPE tubes, including protective covers for wires and cables, insulation of electronic devices, and pneumatic and fluid handling systems. The tubes' durability, flexibility, and chemical resistance make them a perfect choice for these applications. In addition, industrial product manufacturers use them to produce flexible ducting for HVAC systems and create parts for the automotive industry.
Agricultural Applications
LDPE tubing is also extensively used in the agricultural sector. Its durability, flexibility, and resistance to various weather conditions make it an ideal choice for irrigation systems. Farmers use this tubing to transport water and nutrients directly to the roots of plants, making it a critical component of efficient and sustainable farming practices.
Household Applications
In everyday household applications, LDPE tubing is often used in appliances like refrigerators and washing machines, serving as a conduit for water or other fluids. Thanks to its flexibility, water resistance, and ease of heat-sealing, LDPE tubing is also commonly found in household goods such as garbage bags, plastic wraps, and containers.
What is LDPE?
Low-density Polyethene is a thermoplastic made from the polymerisation of Ethylene. LDPE, known for its flexibility, toughness, and relative transparency, is frequently used in applications requiring heat sealing due to its low melting point. Furthermore, its excellent resistance to chemicals, solvents, and moisture makes it suitable for various uses.
Does Not Contain Plasticisers
As this polythene tube does not rely on plasticisers for flexibility, it reduces the chance of chemicals leaching into products, making it a safe and fully approved tube for food conveyance.
Can be Manufactured from different Density
Depending on the intended usage, we can manufacture this tube solution from medium-density polythene, high-density Polyethene, ethylene vinyl acetate, and polypropylene for various strength and durability requirements.
Key Features of this Type of Tubing
Highly flexible
Customisable tube solution
Suitable for food and beverage distribution
Suitable for low-pressure applications
No plasticiser used
REACH, RoHS and BSI ISO 9001 compliant
Lengths
The standard coil lengths are 30 metres; however, we can provide customised solutions if you are looking for alternative coil lengths. We will be happy to discuss your options.
Colours
The website offers all tube sizes in the following colours, and you can contact us without hesitation for any other colours, as we can create them based on specific orders.
Black
Natural/Clear
Blue
Red
Yellow
Green
Working Pressure
We base the working pressures of this tubing on the short-term burst pressure calculated at 20°C, employing a 4:1 safety factor.
Temperatures
You can use low-density polythene at temperatures up to 55°C, although the tube's flexibility decreases at lower temperatures.
Low-density Polyethylene (LDPE) Tubing Overall
Low-density Polyethylene tubing's unique properties – including flexibility, transparency, chemical resistance, and durability – make it versatile with countless uses across many industries. Whether helping to save lives in the medical field, contributing to efficient agricultural practices, or making our everyday life more convenient, LDPE tubing plays a crucial role in many aspects of modern society. As industries continue to evolve and innovate, there's no doubt that LDPE tubing will continue to be a key component in various applications.
Imperial
| Part No. | OD | ID | Working Pressure | Burst Pressure 4:1 Factor |
| --- | --- | --- | --- | --- |
| ALDP/117 | 3/16″ | .117 | 270 P.S.I | 1080 P.S.I |
| ALDP/157 | 1/4″ | 157″ | 220 P.S.I | 880 P.S.I |
| ALDP/212 | 5/16″ | 212″ | 180 P.S.I | 720 P.S.I |
| ALDP/250 | 3/8″ | 250″ | 160 P.S.I | 640 P.S.I |
| ALDP/375 | 1/2″ | 375″ | 135 P.S.I | 540 P.S.I |
| ALDP/500 | 5/8″ | 500″ | 100 P.S.I | 400 P.S.I |
Metric
| Part No. | OD | ID | Working Pressure | Burst Pressure 4:1 Factor |
| --- | --- | --- | --- | --- |
| ALDP/4 | 4mm | 2.5mm | 210 P.S.I | 840 P.S.I |
| ALDP/5 | 5mm | 3mm | 225 P.S.I | 900 P.S.I |
| ALDP/6 | 6mm | 4mm | 175 P.S.I | 700 P.S.I |
| ALDP/8 | 8mm | 6mm | 115 P.S.I | 460 P.S.I |
| ALDP/10 | 10mm | 8mm | 90 P.S.I | 350 P.S.I |
| ALDP/12 | 12mm | 10mm | 70 P.S.I | 270 P.S.I |
ID = Inside diameter OD = Outer diameter
Can't find the right tube to meet your unique requirements?
We have decades of experience creating custom tube solutions for a wide range of industries, including brewing and food and drink. If you would like a custom extrusion, don't hesitate to get in touch with us.
Related Informational Articles about our Low Density Polythene Tube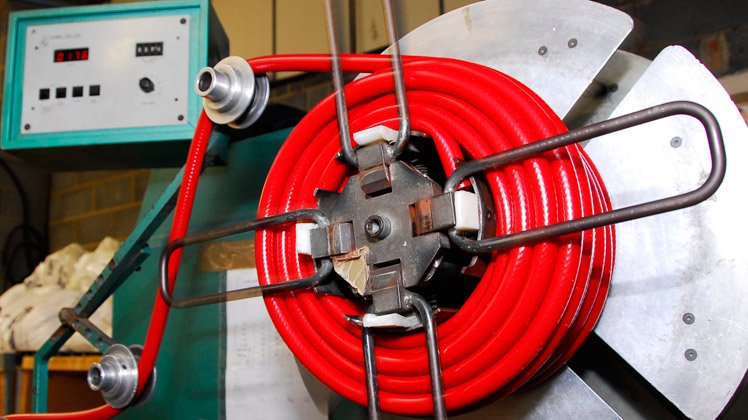 Is there a particular specification that you need to be met? We can create a bespoke hose that meets all your requirements and specifications. We work with several businesses regularly to offer the best solution for their needs.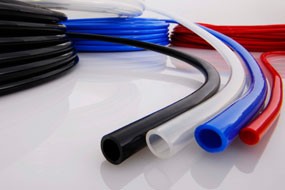 Unreinforced polyethene tubing is ideal for low-pressure applications. Therefore, people primarily use these low-density polythene tubes in pneumatic machinery.