A robust and durable water hose solution that is a particularly popular hose for use on agricultural land and construction sites. Its toughened exterior prevents the tube from kinking, increases grip and withstands abrasion without compromising flexibility.
Details
Our Fluted Water Hoses
From the heart of the UK, we bring to you our state-of-the-art Fluted Water Hoses, meticulously engineered for high performance, durability and safety. Pioneering British craftsmanship and innovation go hand in hand to create this indispensable tool for your business.
Thoughtfully Designed
Our Fluted Water Hoses are thoughtfully designed with unique 'Fluted' technology, allowing an optimal balance between flexibility and robustness. Whether you're in agriculture, landscaping, or industrial cleaning, our hoses guarantee exceptional performance to keep your business flowing smoothly.
Manufactured From UV-resistant Material
Our hoses are manufactured from top-grade, UV-resistant material and can withstand the harshest conditions. The Fluted design enhances water flow while reducing the chance of kinks and twists, ensuring a steady, unhindered water supply, saving you precious time and effort.
Non-toxic Materials
Safety is paramount to us. The non-toxic materials used in our hoses comply with UK and EU standards, safeguarding your team and the environment. A reinforced outer layer provides added protection, resisting abrasions and prolonging the hose's lifespan.
Economical and Practical
Economical and practical, our Fluted Water Hoses are available in various lengths and diameters to cater to your unique business needs.
What are Fluted Water Hoses?
We have manufactured this high-quality Fluted water hose with a toughened exterior using Cadmium-free materials. This robust and durable water hose is a popular solution for heavier-duty applications, such as for use on agricultural land and construction sites.
It provides excellent grip and withstands abrasion. Yet, despite its tough exterior, it doesn't compromise on flexibility and has high kink resistance.
We manufacture our fluted water hose using a 3-layer polyester reinforced construction formulated from a PVC nitrile compound. It is then heated and chemically bonded to create a highly resilient water hose with exterior longitudinal fluting to prevent kinking.
Fluted Water hoses also have impressive working pressures and continue working well in high and low temperatures. It also features exterior longitudinal fluting to prevent kinking and assist with abrasion resistance.
Thanks to these qualities and other benefits, such as abrasion resistance and flexibility, it's a practical option for agricultural and construction site usage. We can also manufacture the same hose with a smooth exterior if desired.
Easy to handle and work with
It is flexible, making this hose easy to handle on-site and relocating to new areas quickly.
Flexible and kink resistant
Despite being designed for heavy-duty water delivery applications, this hose features exterior longitudinal fluting in its construction, which prevents kinking and assists with abrasion.
Durability, reliability and strength
During manufacturing, its two layers of PVC nitrile compound make this hose very durable with excellent strength and reliability.
Abrasion, weather, and UV resistant
We have manufactured this hose specifically for demanding agricultural applications, ensuring it is resistant to abrasion, a wide range of chemicals, weather, and UV rays. This design provides the reliability and longevity you require.
Suitable for outdoor usage
We designed this hose for heavy use in outdoor areas, fields, and construction sites.
REACH, RoHS and BSI ISO 9001 compliant
As this product complies with several regulations, you know what you are getting ahead of time. We use specific compounds in the construction process of this hose to ensure it complies with the required standards.
As a result, this hose is both: Cadmium and Silicone free and is resistant to a wide range of chemicals.
Consequently, this hose is safe for your applications.
Where can I find out more about Agriculture Water hoses?
To find out more information about agriculture and how these large hoses fit in, please see this Wikipedia page.
Lengths & Colours
Our fluted water hoses come in a range of diameters. We typically supply these standard black-coloured water hoses in lengths of 40 and 100 meters. However, we can produce custom orders according to client requirements.
If you need alternative coil lengths or colour options, don't hesitate to contact our sales team; they will gladly assist you.
Fluted Water Hose Uses
This type of water hose is suitable for conveying water in several applications. It has proven particularly popular for agricultural irrigation hose pipe use and construction.
These uses consist of, known as, or good with being used for:
Automatic watering systems
High water pressure hoses
Garden applications
Irrigation systems
Watering systems
Heavy duty field and garden watering applications
Agricultural sites, and for use in fields
Agricultural hose pipes
Flexible irrigation hose
Irrigation hose pipe
Agricultural water hoses
Construction and building sites
Construction hoses
Strong hose pipes
As a strong irrigation pipe
Drip irrigation
As a Water Drip line
As a supply pipe
Fluted pipes
Water Irrigation hoses
Other similar applications
Specification
Part No.
OD
ID
Working Pressure
Burst Pressure 4:1 Factor
AFW/12
3/4″
1/2″
135 P.S.I
550 P.S.I
AFW/34
1″
3/4″
80 P.S.I
320 P.S.I
AFW/1
1

5/16″

1″
60 P.S.I
240 P.S.I
ID = Inside diameter OD = Outer diameter
Technical Details
The working pressures quoted are based on the short-term burst pressures calculated at 20°C using a 4:1 safety factor.
The maximum recommended working temperature is 45°C.
Working pressures will be affected at temperatures above 20°C, and the bend radius and flexibility will be below -25°C.
Contact us
Experience the difference with our UK-manufactured Fluted Water Hoses, blending premium quality, superb functionality, and commitment to sustainability. Trust us to help your business achieve seamless operations, maximising efficiency and productivity.
Buy Fluted Water Hoses – the perfect business partner. Invest in reliability. Invest in the UK.
Can't find the right hose to meet your unique requirements?
We have decades of experience in creating custom hose solutions for various industries, from the pharmaceutical industry to the aeronautics sector.
Related Informational Articles about our Water Hoses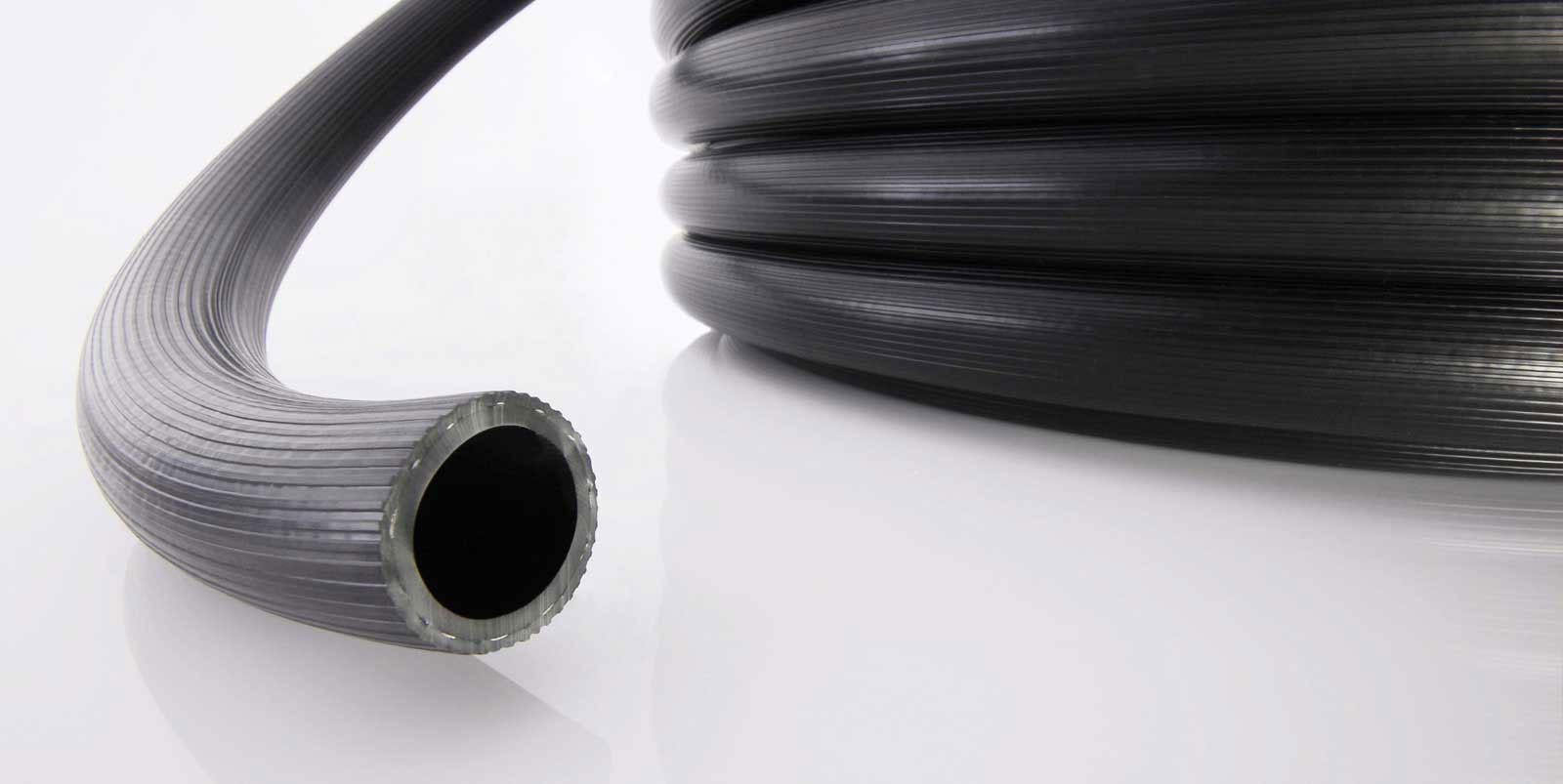 Fluted water hoses are rigid and tough hoses designed as well as developed for conveying water in several applications - due to the benefits listed below - such as: Garden, Agricultural sites, and for use in fields Construction and building sites.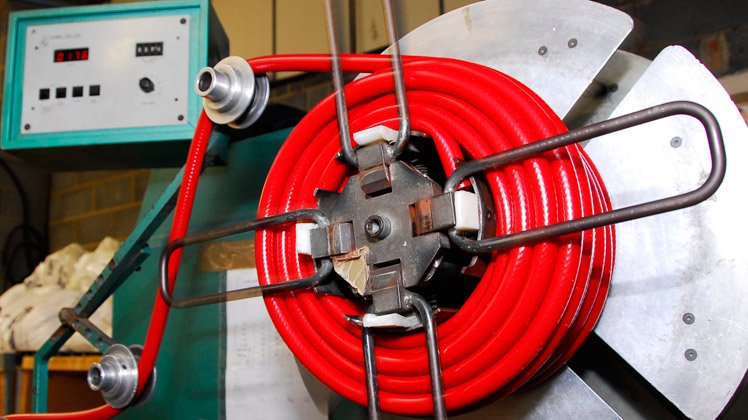 Is there a particular specification that you need to be met? We can create a bespoke hose that meets all your requirements and specifications. We work with several businesses regularly to offer the best solution for their needs. Read the examples below to see how we've helped several companies solve various problems.