Protect the hose and tube with our nylon spiral-cut hose guard. Manufactured from durable nylon 12 polymer, the nylon spiral cut hose guard provides the perfect tough cover for hoses of all sizes used in various abrasive environments or working conditions.
Details
Lengths & Colour
Use
Specification
Technical Details
Details
Extend the life of your equipment and protect your hoses against wear and tear and accidental damage with the nylon spiral hose guard. The spiral wrap is manufactured in our UK facility using nylon 12 polymer creates a highly durable outer guard that deflects abrasion and impact and is resistant to chemical corrosion, including petrol, oil and dilute acids. The guard can easily attach by wrapping the hose or threading it through. The nylon hose guard serves the purpose of tidying up and protecting multiple hoses or electrical cables.
Durable outer guard.
Abrasion and impact deflection.
Chemical resistant.
Abrasion resistant for pipes and tubes within
Offers anti-crushing attributes to the pipes and tubing within
Provides high strength attributes
Ideal for industrial hose assemblies
Easy to attach.
REACH, RoHS and BSI ISO 9001 compliant.
If you require any bespoke requirement, use our form on our 
customised hose page
 or contact our office for a chat.
Lengths & Colour
Use
Specification
Technical Details
Can't find the right tube to meet your unique requirements?
We have decades of experience creating custom tube solutions for various industries, from the pharmaceutical to the aeronautics sector.
Related Informational Articles about our Hose Guards
Nylon Spiral cut hose guards have many benefits. These include: improving the efficiency of the hose they are protecting, reducing the chance of damage and leakages, along with many health and safety considerations...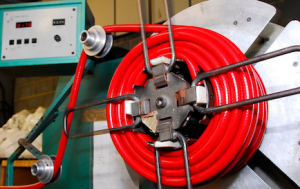 Is there a specific specification that you need to be met? We can create a bespoke hose that meets all your requirements and specifications. We work with several businesses regularly to offer the best solution for their needs. Read the examples below to see how we've helped several companies solve various problems.