What are Curtainsider Trailers and how does PVC Pelmet Benefit Them?
Curtainsiders are trucks with a removable side curtain that give full reliable access to the content of the truck without having to underload the entire vehicle. These vehicles are ideally suited when access to one section of the load is required without exposing or disturbing the entire load. Also these types of lorries don't require as much labour intensive work when loading and unloading. These types curtain pelmet of vehicles are ideally suited for multi-point drops.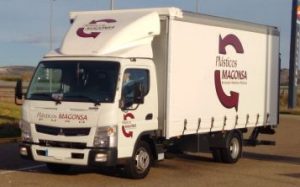 Image by: By Juligarcibs – Own work, CC BY-SA 4.0, https://commons.wikimedia.org/w/index.php?curid=58655680
Why does our PVC Pelmet benefit Curtainsiders?
Our pelmet fits securely to the top and bottom of the curtain mechanism, and have a number of features. These features include:
Protect your roller mechanisms
Our pelmet protects the mechanisms which allow the curtain to move back and forth. This allows these parts to last longer and to keep costs and maintenance to a minimum. Alongside this, as the rollers are shielded it means that they don't require any additional maintenance to the track to ensure a smooth operation of the curtain.
Provides a strong weather seal
As our PVC pelmet is 100% waterproof it repels water and prevents water ingress and moisture from leaking into the load area, allowing protection of the cargo from the elements during transportation.
Will not crack under cold temperatures
Our Curtain Pelmet is cold rated for temperatures as low as -70°C and will not crack under extreme temperatures.
Provides a streamlined look
Our pelmet section allows a more streamlined look and feel to the vehicle, which will help to create an enhanced first impression to customers.
Can be provided in different colours
Our pelmet is manufactured in the UK and can be produced in stock standard black and white – or bespoke manufactured – in a range of colours to suit your corporate branding and truck colour.
Made to fit most leading trailer manufacturers
Our pelmet has been created and manufactured to fit most leading trailer manufactures as a replacement part or as original equipment.
Manufactured to a high quality
Over the years we have formulated special blends of tried, tested and trusted PVC pelmet materials in conjunction with our material suppliers to offer the highest quality pelmet section on the market today.
Custom pelmet available
As a pelmet manufacturer not only can we provide you with the standard range but, also produce custom pelmet profiles to suit your individual requirements.
Abbey Extrusions are a UK pelmet manufacturer who can ship worldwide
As a UK manufacturer based in Leicestershire, England, we have easy access to all major motorways, cities, airports, docks and export centres. As a result, we can quickly and easily ship pelmet to most destinations.
Different Types of Pelmet already in stock
We carry a wide range of curtainsider pelmet from stock which generally suit most requirements. These include the following sections and part numbers:
AP1
AP1S
AP2
AP3
AP4
AP5
AP9
AP10
AP12
AP15
AP16
AP17
AP19
AP22
AP23
AP25
For more information on the details of the dimensions of the above pelmet sections please see our
pelmet page
. Sample swatches that include all of our standard pelmet sections are available by request.
Not sure if this is the right product for you?
If you are still not sure if this is the right product for your needs please do not hesitate to
contact us for more information
or call us for a friendly chat with our expert sales team.
Bespoke
Can't find the right tube to meet your unique requirements?
We have decades of experience in creating custom tube solutions for a wide range of industries, ranging from the pharmaceutical industry to the aeronautics sector.​