Tried and Trusted Lorry PVC Pelmet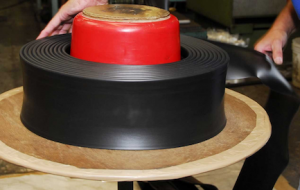 Protect and streamline your trailers, lorries, and trucks with our specially formulated, tried and trusted Lorry PVC pelmet. Over the years, we have established a firm reputation as a leading manufacturer of curtainsider pelmet sections. Made from specially formulated blends of PVC materials, our curtainsider pelmet has been specifically designed to help protect the roller mechanisms of curtain-sided trailers and also eliminate water ingress to the cargo areas. It is a durable, long-lasting and very popular product.
We have manufactured pelmet for a number of companies including Boalloy, Southfield, Don-Bur, Cargobull, JC Payne, CVR, Truck & Trailer, The Cartwright Group, L. D. Montracon, SDC, Service Metals Group, Grahams, TLT, Trans Load and Tiger Trailers
Available in a wide selection of sizes, our standard pelmet stock comes in 14 metre lengths and a colour choice of black and white. However, if you're looking for something a little more individual, then we can help you to achieve this, with RAL colour matching. We're highly experienced in manufacturing bespoke curtainsider solutions, and are able to colour match pelmet to specific livery and corporate branding and any kind of size requirements. View our pelmet product page for more information.
Sample Swatch
We regularly send pelmet swatches out to clients so that they can find the right one for them. If you're not sure what kind of pelmet you need, simply get in touch and send us a sample of your old pelmet so that we can ensure that you find a new pelmet that matches your exact needs.
Bespoke
Can't find the right tube to meet your unique requirements?
We have decades of experience in creating custom tube solutions for a wide range of industries, ranging from the pharmaceutical industry to the aeronautics sector.​