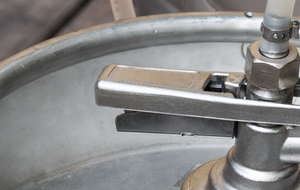 Did you know that the number of breweries in the UK has hit the highest level since the 1930s? Well it's true, according to recent reports. There's been an explosion in the popularity of real ale and craft beer, prompting new breweries to open up at an increasing number each year. So, with craft beer and microbreweries on the rise throughout the UK, it's perhaps no wonder that our brewery hoses continues to be one of our biggest and best sellers.
We have two hoses ideally suited to brewery applications: reinforced PVC hose and clear PVC tube. Specifically designed to transport liquids, chemicals and gases, they are a popular and reliable solution for those wishing to distribute food and drink. They meet all food and drink safety regulations, and importantly, are manufactured to a high specification using low toxicity materials that impart no flavour or odour to the beer they are conveying.
Both solutions are highly versatile and economical, however the reinforced PVC hose is best suited for use in high pressure applications, which may make it the preference for use in bars and pubs where maintaining high pressure across distance is often a key requirement, whereas the clear PVC tube is particularly suited for low pressure applications. Both solutions offer excellent flow rates and a reduced risk of blockages, as well as high levels of abrasion, corrosion and chemical resistance.
Both of our brewery hoses are available in a wide range of diameters and come in a standard coil length of 30 metres. The reinforced PVC hose comes in a variety of colours, but if you require the clear PVC tube in a colour rather than transparent, our bespoke service can help. We offer a bespoke service to clients who need to create a tube or hose of an alternative diameter, colour or length. We have decades of experience in creating custom tubing solutions and have assisted companies from a wide range of industries, including the pharmaceutical industry, the aeronautics sector, hydraulics and pneumatics industries and, of course, the beverage industry.
Want to find out how we could help you to create your ideal hose or tube solution? Get in touch with our expert team.
Bespoke
Can't find the right tube to meet your unique requirements?
We have decades of experience in creating custom tube solutions for a wide range of industries, ranging from the pharmaceutical industry to the aeronautics sector.​